Group News
President of Sierra Leone, Koroma, visited Sinotruk

Data:2017-05-04 Source:SINOTRUK Pv: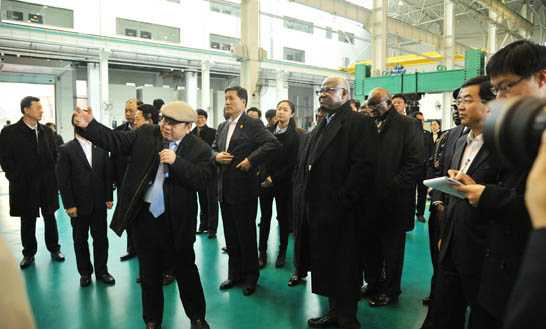 At the invitation of President Xi Jinping, President Koroma of Sierra Leone, who was on a state visit to China, visited China National Heavy Duty Truck on the afternoon of December 3. Chairman of China National Heavy Duty Truck Group, Mr. Ma Chunji, Chairman of China National Heavy Duty Truck Group (CNHTC), Mr. Liu Wei, Executive Director of China National Heavy Duty Truck (Hong Kong) Co., Ltd. warmly welcomed Koroma and his entourage to visit the National Heavy Duty Vehicle Technology Research Center (CNHTC) and Emission Laboratory. Also visited Chinese heavy truck heavy trucks, all-drive heavy trucks, protective vehicles, and other exhibition vehicles.
Ma Chunji briefed Koroma and his delegation on the overall situation of China's heavy truck industry, as well as technical R & D, international market development, especially the African market joint cooperation, expressed that hope Koroma and Sierra Leone government further support China's heavy truck development in Sierra Leone and African markets .
Koroma is excited to visit the show truck, while listening to on-site show truck technology, performance, etc., ask questions from time to time, and Ma Chun-Ji and Liu Wei answer one by one. Known that Trucks have reached the international advanced level, the past few years, China National Heavy Duty Truck sales to Sierra Leone has reached more than 200 heavy trucks and is generally welcomed by the user, President Koroma nodded frequently and praised.